Crimson Fists objectives
I posted earlier this month. The Shrine is complete!
I had a few goals in mind when I painted this objective:
Match the colors of my City Terrain.
Function as a generic objective though I keep calling it a "Crimson Fist Objective"
Limited color-palette, so that it doesn't distract from the minis during play.
All things considered, I think I accomplished my goals! I wanted to practice highlighting black (since I'll be painting up my Ravenwing soon), so this shrine was a good opportunity for me to practice my light-touch. Here's a close up of the detail:
Paint Scheme:
Gesso Black Primer, Chaos Black basecoat
Rocks/Ground: Adeptus Battle Grey - Fortress Grey - Skull White drybrush (last brush was very sparing!) The large boulders also got multiple Badab Black washes.
Shrine - Used same colors as rocks ground, but did not drybrush. I wanted to try and make the shrine look like smooth rock...or obsidian. I think I got halfway there.
Seals - Khemri Brown/Mecharite Red, Devlan Mud wash, Bone highlight. Micron Pens for detail.
Incense Burner-Dark Angels Green-Goblin Green rope. Basecoat Dwark Flesh, Brass, Devlan Mud, Mithril Silver highlights (very light).

Skull - Khermi Brown, multiple builds of Bleached Bone/Mud washes. I wanted to practice doing great looking skulls too. This is similar to my Deathwing colors, but I didn't go all the way to the highest highlight.
Sovietspace
requested more pics of my Dark Angels, so here's another teaser below. I've decided to go to my Dark Angels once my Crimson Fists get to 2k. Now I just have to decide if I should field them as Dark Angel Codex marines or Space Marine codex Dark Angels. :)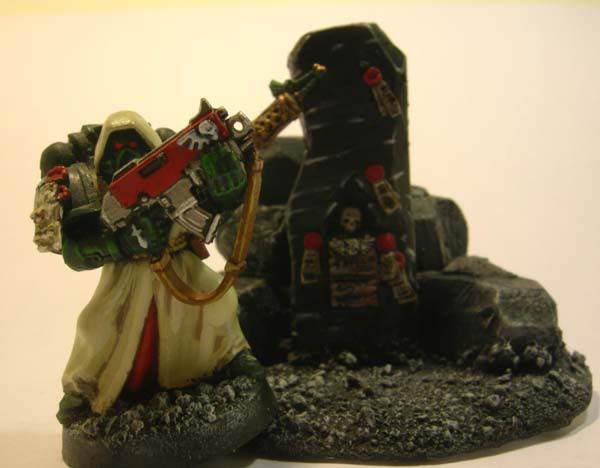 Thanks for looking!